How to eat like a hot chick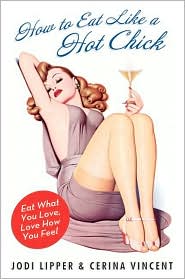 "Chocolate cake for breakfast and a pound of spinach for dinner? Looking and feeling your best has never been so easy, so guiltless or so much fun!
Let's be honest, ladies, are you tired of hearing about the eating habits of airbrushed celebrities? Do you want to feel sexy as you slide into your favorite jeans, but you're too confused by the complicated diet plans out there? Well, here is the antidote to all of that nonsense!
With saucy wit and goodwill to spare, Lipper and Vincent reveal their tricks for how you can overcome any food obstacle, from which cocktails will keep you light on your feet past midnight to how you can stay on track when you're down in the dumps (or if you just got dumped). They'll teach you how to eat the foods you love with confidence, make smarter choices, and wake up your inner Hot Chick once and for all.
It's time to end the vicious dieting cycle with this straightforward and hilarious guide to enjoying your food, embracing your body and celebrating yourself like only a true Hot Chick can."
I recommend this book, Whether it's loving the shape you're in, or loving what is on your plate, How to Eat like a Hot Chick is not a
diet
, but rather a mindset. It's fun and interesting to read by combining current and contemporary humor, along with a side of sassy and sexiness. It got some good food tips in it as well, the book actualy made my go to the grocery store and get spinach! Spinach rocks! I hate diets, and diet books, diets just don't work on me at all, this book says; eat what you think is delicious (but un-healthy, lets say) candy, but the book teaches you how to keep a balance. Like they say have a chocolate cake for breakfast, have spinach for dinner. My weakness is snacks, ok, now I know there's nothing wrong with having a snack every now and then as long as I keep the balance and compensate with a healthy meal the same day. (which on the other hand is obvious, but whatever...it's just a fun and interesting book to read about loving your body and what you eat.)
Friends, if you wanna read it, you can borrow it from me ;)
I'm done reading it. For you others it's available on the net and at book shops.
(Not sweden...I think)